Adjustable oscilloscope probe that is compatible with the BNC interface, digital oscilloscopes, virtual oscilloscopes, handheld oscilloscopes, etc.

Model: P6100

Bandwidth: DC-100MHz
Rise time: 3.5ns
Attenuation ratio: 1X/10X
Input resistance: 1MΩ/10MΩ±2%
Input capacitance: 1X:70pF-120pF, 10X:13pF-18pF
Maximum input: 1X-200 working voltage (Vp-p),
10X-600 working voltage (Vp-p)
Compensation range: 14 - 35pF
Operation environment: 0-50℃ ,0-80%RH
Storage environment: -20-60℃ ,0-90%RH
Size:110 ± 2cm
Weight: About 101g/set
Unit price for 1 set. inc. 2x probes
Packaging: 2pcs/pack
Package includes: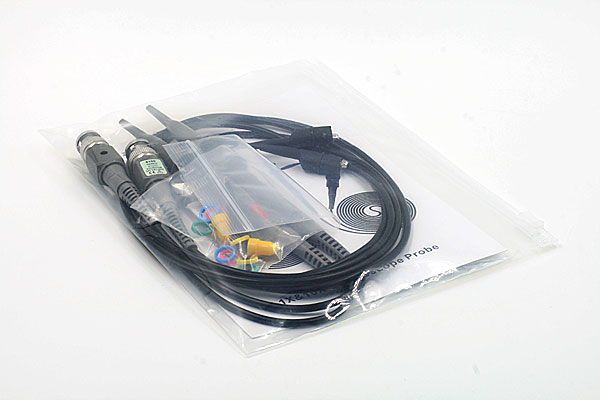 Note: all the descriptions and prices are subject to change without prior notice.
Free Shipping: No
Shipping Weight/Unit(g): 120.00
Std. Packing Qty. (pcs): 1