Description:
This tachometer is a high quality instrument to measure the Rotational Speed (RPM) with wide measuring range and high resolution. It is featured with high accuracy measurement, quick measuring time and long detecting distance up to 500 mm (20 inch) with Laser.
This tachometer is very easy to use by applying a reflective mark (included in package) on target object, then aim at the mark by Laser beam. This tachometer has wide range of applications include measuring rotating speed of machine, motors, model cars, wheels, lathe for metal or wood cutting work etc.
Specifications:
Display: 5 digits, 18 mm (0.7"± inch) LCD with Function Annunciation.
Testing Range: 2.5 ~ 99,999 RPM (rate / min).
Resolution:
0.1 RPM (2.5 ~ 999.9 RPM) .
1 RPM (over 1,000 RPM).
Accuracy: (0.05 % + 1 digit).
Sampling Time: 0.8 seconds (over 60 RPM).
Test Range Selection: Automatic.
Memory: Maximum value, Minimum value and Last Measured value.
Detecting Distance: 50 ~ 500 mm (2 ~ 20 inch) (Laser).
Time base: Quartz Crystal.
Circuit: Exclusive one-chip of microcomputer LSI circuit.
Power: 9V PP3 Battery.
Operating Temperature: 0 ~ 50 °C (32 ~ 122 °F).
Dimension: approx. 131 (L) x 70 (W) x 29 (D) mm (5.16" x 2.76" x 1.14" inch).
Shipping weight: 182g/pc

Packaging: 100pcs/carton
Package Content:
1 x New Digital Laser Photo Tachometer Non Contact RPM Tach
1 x English Manual
1 x Carrying Bag
3 x approx. 20cm of reflective stripes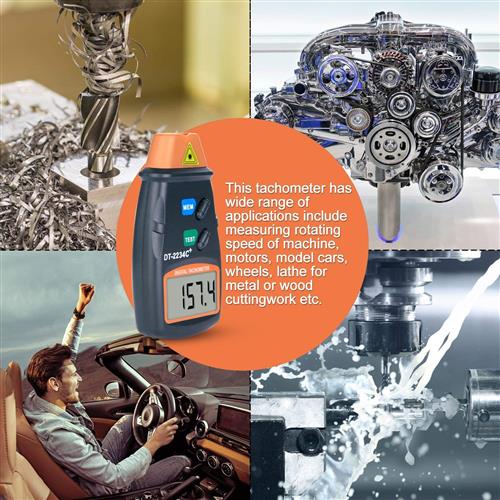 Note: all the descriptions and prices are subject to change without prior notice.
Free Shipping: No
Shipping Weight/Unit(g): 182.00
Std. Packing Qty. (pcs): 1